We spend the majority of our waking hours at work, and this time is increased if you are your own boss because you will typically need to continue working there after regular business hours. Like most of the employees, you can think of your office as your home away from home. Here, you want to make sure that you're giving your employees access to a safe, hygienic, and clean work environment. Every individual at a workplace is expected to give their all for the company or industry, and the office environment has a significant impact on both their job satisfaction and the caliber of the work they do.
Would they want to sit there, let alone work, if their workspace was covered in rubbish and dust? Most likely not.
We've seen that while many businesses employ a cleaning service, the bare minimum they provide is a vacuum or garbage removal. Deep cleaning is typically not performed, especially in a busy environment like an office. Hence, hiring a skilled professional cleaning services firm to remove the germs, allergies, dust, and grime accumulated in the upholstery of office furniture is a smart move.
But there are a number of other reasons why a business should hire a commercial cleaning agency that provides expert services tailored to the office setting.
Employee Productivity Grows:
When a workplace is fresh, clean, and free of accumulated dirt and dust, employees are more content and glad to work there. If an area is clean, it feels healthier to breathe the air there or to be there. Even though the value of a healthier and cleaner workplace culture is widely acknowledged by businesses, very little is being done to put this knowledge into reality.
Teams working in a clean workplace will undoubtedly be more motivated to not only arrive at work earlier, be more productive, and have better ideas, but they may also not object as much when asked to remain late and finish unfinished business.
Few Sick Days:
The spread of infections or diseases is sometimes a result of poorly cleaned areas. The most stressful component of managing a business or working in a team is meeting deadlines without sacrificing efficiency. Employee requests to work remotely or take sick days can result in the illness of the employee having an impact on business operations such as delivery and sales. In order to prevent the transmission of infections or diseases, the workplace environment should be thoroughly deep cleaned, much like an office or a home Contact Us with Mansil Services in Kelowna for Professional Services.
An Appearance That Is Professional and Positive:
Imagine entering a business or place of employment where there is overflowing trash, dust-covered workstations, and soiled carpets or tiles. Would you want to conduct business in the same location or in a spotless building that smells wonderful and looks impeccable? Customers will judge your job based on the impression you create in their minds when they enter the room.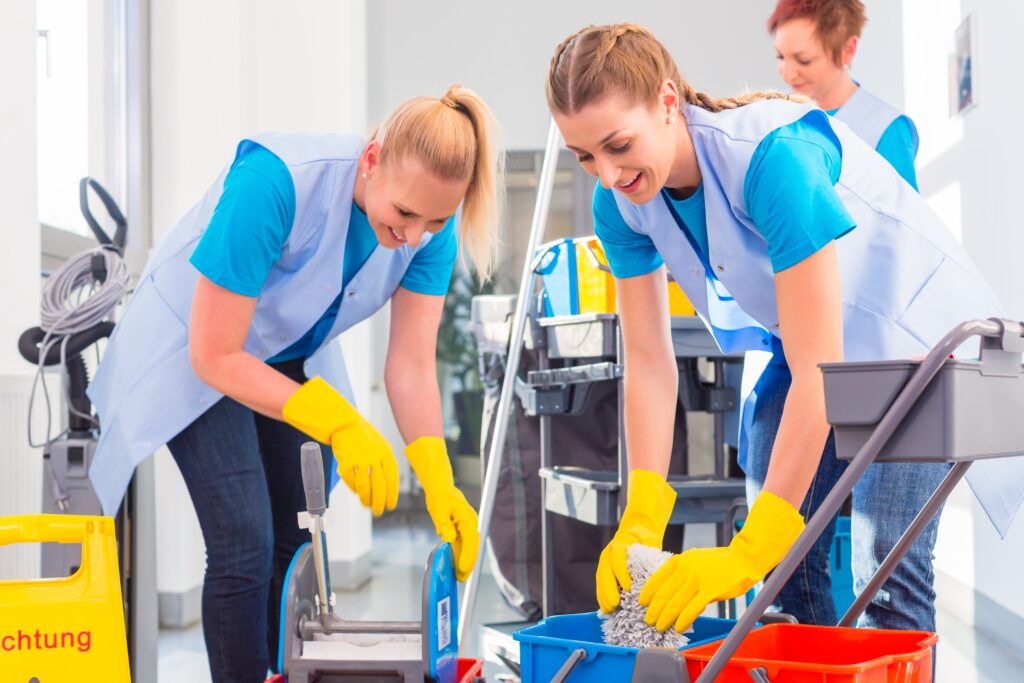 The previously mentioned office exudes an unprofessional air, giving the impression that the business produces subpar work. A hygienic, spotless, and professional-looking company setting will leave a lasting, subtle impression on any client or customer who walks through the door.
Kelowna-Based Commercial Cleaning Service: Mansil Services
The leading company offering office cleaning services in Kelowna is Mansil Services. Our skilled cleaning staff is committed to giving our customers high-caliber services that are tailored to their individual demands. We are prepared to manage even the most challenging cleaning difficulties since we recognize how important it is to keep a tidy and professional work environment. We offer a range of cleaning services, such as post-construction cleaning, emergency cleaning, restroom cleaning, window cleaning, desk and surface cleaning, and floor cleaning.
For a clean, healthy, and secure environment in your space, we employ cutting-edge tools and eco-friendly cleaning supplies. To minimize disruption to your workday, our cleaners are trained to employ the most modern corporate cleaning services in Kelowna methods while also working quickly and effectively. We are available around-the-clock to address any inquiries or issues, and our objective is to assist you in maintaining a tidy and orderly commercial area. To arrange a free consultation and learn how we can help you maintain the best possible appearance in your commercial area, contact us today.