Your office serves as your temporary residence. And for most people it is their second home. Most people work in their office more often than they spend time with their friends and families at home. Consequently, you and your team deserve a clean and friendly environment. Your office's overall hygiene and cleanliness, from the conference room to the restrooms, are essential to enhancing worker productivity, job happiness, and the first image you provide to your team, customers, potential clients, and other visitors. Cleaning is now a task that is performed outside of homes. Offices and commercial buildings likewise require meticulous cleaning and maintenance with Mansil Services INC.
Customers these days have a variety of options, so businesses need to pay attention to the tiny details if they want to stand out from the crowd. Many businesses choose to use an office cleaning services because important factors like cleanliness are involved. You should consider the following factors while selecting a cleaning service for your office:
Security and Reliability:
It is essential that you work with a firm you can rely on when it comes to cleaning your place of business. Your cleaning service needs to be licensed, bonded, and insured. They should also do staff screening as part of the hiring procedure.
Being able to Work with Various Floor Surfaces:
Many office structures have multiple flooring surfaces. For instance, the lobby's surface is typically different from that of the cubicle and back-office sections. The ideal office cleaning service will be equipped with the knowledge and resources needed to efficiently clean every surface. They should be capable of waxing and stripping in addition to wet and dry mopping.
Level of Service:
The greatest strategy to stop infections among your personnel and clients is to keep the various areas of your office clean. In order to make sure that all sections of your business, including your offices and restrooms, are secure and hygienic, a professional office cleaning service providing firm will use disinfectants. All of the high-traffic areas in your office where people walk or go through the most on a daily basis can be cleaned by us.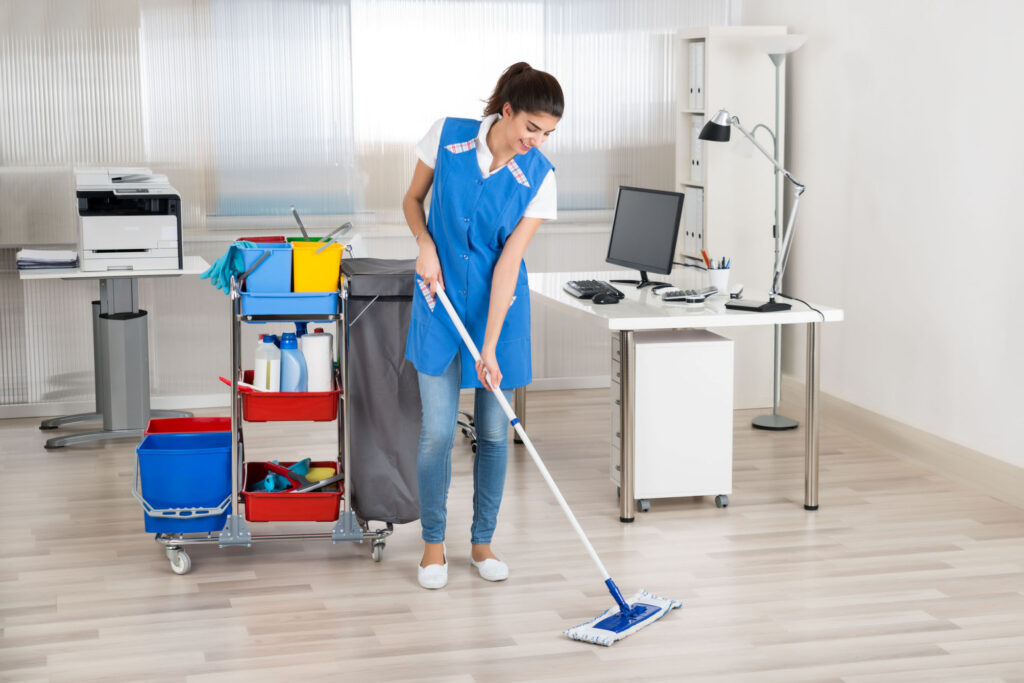 Location of the Company:
Make sure the office cleaning firm you choose is already active in your neighborhood. To receive a service that is specific to your location, it is advisable to work with a professional cleaning company in Kelowna like Mansil Services INC that has its headquarters close to your place of business. Local businesses will be able to manage the local labor market more effectively. A corporation with its headquarters a short flight away will have a very tough time comprehending the unique requirements or labor costs in your region.
How Well the Company Compensates Their Staff:
Many individuals don't think to inquire about staff salaries when hiring an office cleaning service. A company that pays its employees a fair rate will draw and retain competent labor, therefore you want to choose one that does. You frequently get what you pay for, and every service provider is only as excellent as the staff they employ. How well they compensate their staff.
The Fair Price for Their Services:
Before choosing an office cleaning service, the last question you should ask is: Is their price reasonable? You want to see if the quotations you receive for your building are comparable by getting many. A deal that seems too appealing to be true usually is. Avoid hiring contractors who take shortcuts and endanger your workplace's health and safety. The contractor who charges the lowest price today will most likely end up costing you more money.
All you need to keep your office environment clean and comfortable is our world-class office cleaning services!
Your greatest option for preserving the health and safety of your employees is to hire a company providing the best office cleaning services for your firm, but not all of them are made equal. Mansil Services offers the greatest service that meets your demands at an affordable price. We make sure when you choose our company for your office and commercial cleaning services in Kelowna be a place where your trust in us doesn't waver throughout our time working with you and whose service quality can be independently verified.