We spend most of our time every day at work and especially more if you are your own boss because then you'll usually have to stay back at the office after work hours. Your office is basically a home away from your home, and the same goes for most of the employees. In this case, you want to make sure that you're providing your employees with a workspace that is not just safe but also healthy and clean. The workplace of any business is where every employee is require to provide their absolute best for the company or the industry and a huge part to play in their work satisfaction along with their quality work outflow is the work environment. If their workspace littered with trash and dust, would they want to sit there, let alone work? Probably not. 
We've seen that many companies hire a cleaning service, but the minimum they do is vacuum the place or empty out the trash. The deep cleaning normally required, especially in a place as busy as an office, is normally not fulfill. Hence, having a professional commercial cleaning company to do a cleaning of the pathogens, allergens, dust, and dirt collected in the office furniture upholster is a clever option.
Commercial Cleaning Company in Kelowna:
Mansil Services is a leading provider of commercial cleaning services in Kelowna. Our team of experienced cleaners dedicated to providing top-quality services that meet the unique needs of our clients. We understand the importance of maintaining a clean and professional work environment, and we are equipped to handle even the toughest cleaning challenges. Our services include but are not limited to floor cleaning, desk and surface cleaning, restroom cleaning, window cleaning, post-construction cleaning, and emergency cleaning services.
We use state-of-the-art equipment and environmentally friendly cleaning products to ensure that your space is clean, healthy, and safe. Our cleaners trained to use the latest cleaning techniques and to work efficiently and effectively to minimize disruption to your workday. Our goal is to help you maintain a clean and organized commercial space, and we are available 24/7 to answer any questions or concerns. Contact us today to schedule a free consultation and see how we can help you keep your commercial space looking its best.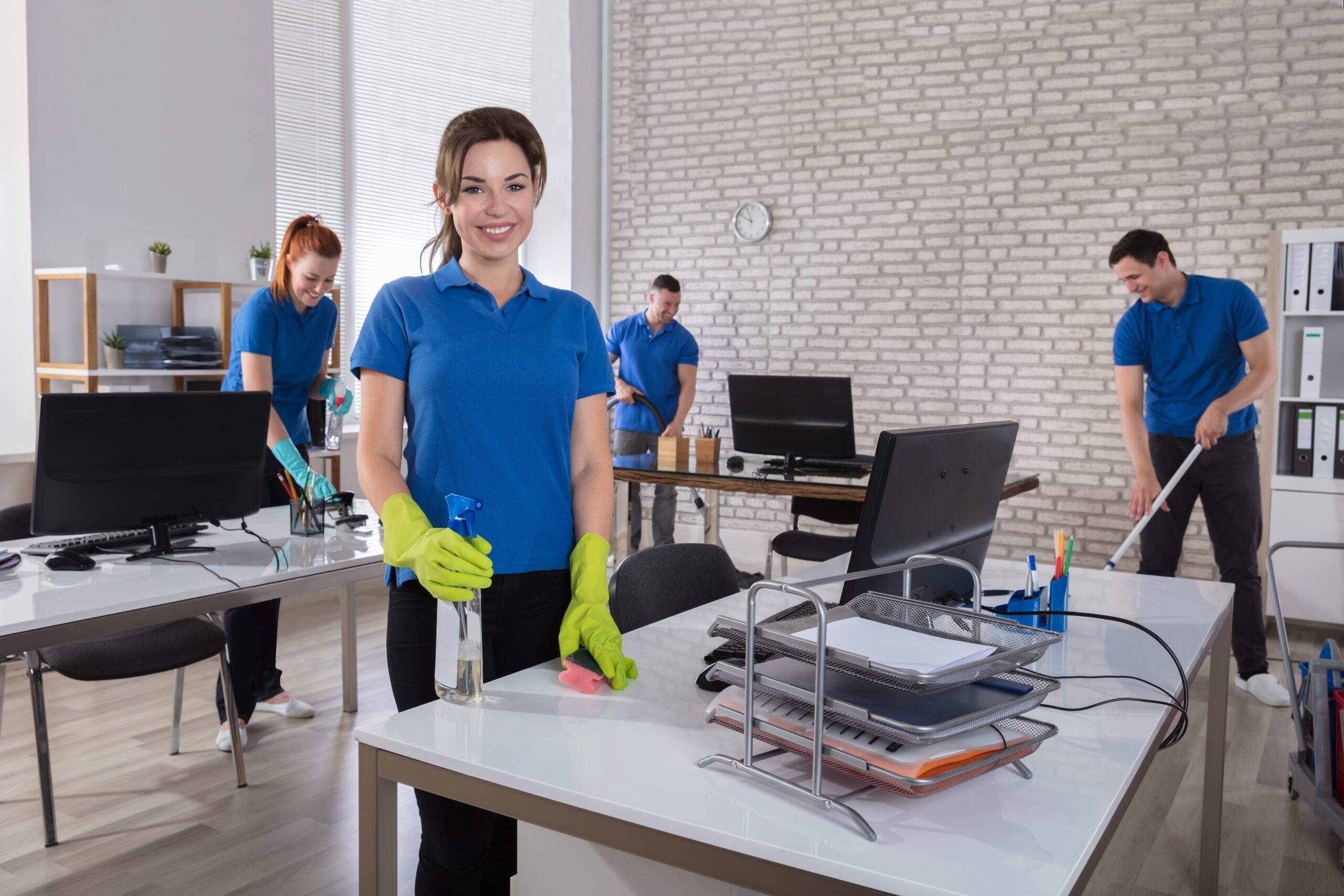 But there are several other reasons for a company to use a commercial cleaning company that offers professional services specific to the workplace environment. 
Increase in Employee Productivity:
Employees are more satisfied and happy working in a workplace that is free from accumulated dirt and dust and is fresh and clean. When a place is clean, the air feels cleaner, and feels healthier to breathe or be in that place. While many companies and businesses understand the importance of healthier and cleaner company culture, very little is done to put that understanding into practice. 
Teams working in a cleaner environment will definitely be more eager to not just come to work early like office cleaning services in Kelowna, be productive and have brighter ideas, but they also might not protest much when asked to stay late and finish pending work. 
Few Sick Days:
Areas that are not clean properly often result in the spread of diseases or illnesses. When you're running a business or are part of a team, the most hectic thing is to keep up with the deadlines while not affecting the productivity level of the work. In this situation where employees ask to either work from home or use their sick days for when they are ill can cause their illness to affect sales, deliveries, and other areas of business. A thorough deep cleaning of the workplace environment, like office cleaning and home cleaning, matters in warding off the spread of illnesses or diseases. 
A Professional and Positive Appearance:
Just imagine that you're walking into a company or a workplace with overflowing trash, desks covered with dust, and stained carpets or tiles. Would you rather like go to the same place for your work or to a business palace that is clean, smells fresh, and looks pristine? The image that is project in the eyes of the customer when he or she first walks in is how they will perceive your work to be. 
The earlier workplace mentioned gives an unprofessional appearance hence creating the impression that the company performs poor-quality work. A sanitary, clean, and smart-looking company workplace will make a subtle but strong impact on the client or customer walking in the door.
Looking For the Best Commercial Cleaning Service Provider?
Give Mansil Services a call today!
The entire work team at Mansil provides some of the best commercial cleaning company that are hassle-free and fast. We also believe in providing our customers with proactive care that is taking care of any slight issue before it becomes a big problem. The entire purpose of our service is to look out for the best interest of our service users. We give immense importance to transparent communication between the service providers that is us with our customers. This ensures that you are continuously aware of everything that's happening while the services are being provided and with the services provided. 
We, at Mansil Services, keep a continuous check of fixed problems or issues resolved by us so that we can take care of anything before it becomes a problem. We also keep a record of each, and every service provided, and every visit made so our customers can have a log or record of each visit along with services when required. So, what are you waiting for? Give us a call today for a free assessment!
Or you can also use our easy-to-use and quick online quote for residential and commercial cleaning services that will provide you with our hassle-free and fast commercial cleaning services.