It can be difficult at times to run a firm, and executives must constantly make important especially when it comes to commercial cleaning services and the choices we make when choosing these services. When faced with so many crucial choices, you want to ensure that your business operations are not only effective but also conducive to a healthy and clean workplace for both clients and staff. Even though it might seem straightforward, keeping your office spotless is one of the finest methods to project a professional image.
You don't want your clients and staff to think poorly of your office maintenance. Give them a first-class workplace experience instead by keeping everything extra tidy and organized. You must determine where you should concentrate your attention for office cleaning services in order to save time and money. High-traffic spaces, cubicles, kitchens, break rooms, and restrooms are a few examples.
Because office common spaces are more likely to be noticed and frequently become clogged with dirt and debris, you should have a professional commercial office cleaning service concentrate first on these places. Steps, main floors, and hallway floors are regions with a lot of traffic. To maintain a presentable business, these heavy traffic areas require daily cleaning, especially if the areas feature carpet. The easiest approach to keep high-traffic areas clean is frequently arranging thorough office cleanings.
Checklist for Deep Office Cleaning:
A checklist for deep office cleanings includes items like cubicles, workstations, and floors that you might wish to thoroughly clean. Clients and staff will notice less dirt building on carpeting, which is obvious via carpet traffic lanes caused by dirt buildup, thus it is simple to see the benefits of thorough commercial cleaning services and cleanings.
Next, all surfaces should have a good dusting and wipe down, including desktops and filing cabinets. Followed by the emptying of trash cans as office critters will search trash cans for anything they can eat. A professional office cleaner will make sure your office desks, telephones, computer keyboards and more are disinfected to help you prevent widespread office sickness from the spread of germs. You may also want all areas polished after cleaning to give your office a nice shine.
Small Office Cleaning Services in Kelowna:
Make sure to adequately disinfect business restrooms which is one of the main areas to target when it comes to commercial cleaning services. Although the majority of customers may never use your restrooms, your staff will be aware of how well-kept they are. As restrooms are heavy traffic areas that are vulnerable to the rapid transmission of germs through commercial cleaning services, you want to ensure that they are always safe and clean. Furthermore, you must remember that your staff will utilize the break room to prepare and consume food. Regular refrigerator cleaning is necessary to ensure that expired food is thrown out. Hire Mansil Services to keep your office spotless and professional.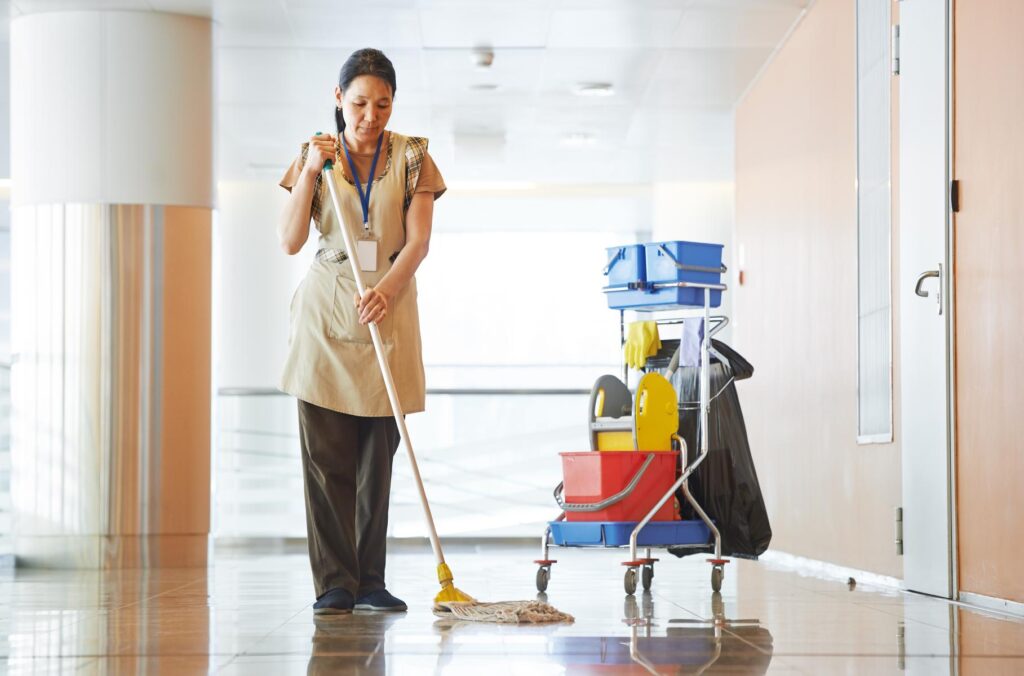 People may decide not to use commercial cleaning services because of costs. Yet, assuming the roles of CEO and cleaner at the same time is (often) a false economy. Productivity falls off if no one in your office can find anything. According to studies, workers who are exposed to higher levels of surface dust are less productive. Employees are more likely to work more productively if they feel at home and cared for at work. This is contrasted with uneasy employees. If an employer invests in their employees, they are more likely to feel comfortable in their position. More employees buy-in are encouraged as a result.
Let Mansil handle all your office cleaning requirements!
Mansil Services is aware of the value of commercial office cleaning services in raising output. You will profit from a well-maintained office building with the help of our affordable office cleaning services. Check out the janitorial and cleaning services we provide for offices.
Mansil Services has the industry experience to give you commercial cleaning services that will undoubtedly surpass your office cleaning expectations. Our personnel are educated to deliver commercial cleaning services that are careful and impeccable since we recognize how important it is to have a clean and healthy workplace.