In today's fast-paced business environment, organizations are continuously looking for methods to streamline their processes and cost-saving strategies. Commercial cleaning services are one of the frequently disregarded factors that can significantly affect both costs and efficiency. Employing a reliable cleaning firm may have a profound impact on businesses of all sizes, from tiny offices to large corporate structures. Today we will examine the benefits of outsourcing your cleaning requirements to qualified service providers in terms of cost-saving and minimizing cleaning expenses.
Eliminate in-house Cleaning Costs:
You can eliminate the requirement to recruit, train and manage in-house cleaning staff by hiring a professional cleaning service. As a result, you can save recruitment fees, employees' salaries, benefits and other related expenses. Moreover, there is no need to purchase expensive cleaning tools, equipment and supplies, which may prove to be a huge financial burden. Professional cleaning services kelowna come with their own superior cleaning tools and supplies, lowering your unnecessary investments and recurring costs.
Cost Management and Customized Cleaning Plans:
One of the key benefits of hiring a commercial cleaning company is the flexibility to tailor cleaning schedules to your particular needs and budget. The frequency of cleaning visits, the range of services required and any specialized cleaning activities can all be discussed with the cleaning firms. This enables you to utilize your cleaning budget more effectively, ensuring that you obtain the services you need without going over budget for unnecessary expenses.
Avoiding Penalties and Regulatory Compliance:
Some businesses, like health care and dentistry offices, must adhere to strict standards of cleanliness and hygienic conditions in order to insure compliance with rules and regulations. If these requirements are not met, there may be fines, penalties or even legal percussions. By hiring a professional cleaning service to ensure that your business complies with all the sanitation and cleanliness requirements, you may lower the risk of possible financial liabilities.
Increasing Operational Efficiency:
You can enhance your operational effectiveness by outsourcing your cleaning responsibilities to a commercial cleaning service in Kelowna. You may rely on cleaning experts to handle all areas of cleanliness rather than devoting your valuable time and sources to managing in-house cleaning staff or delegating cleaning tasks to your employees. It will enable your team to focus on their primary responsibilities, resulting in increased productivity and efficiency.
Access to Specialized Equipment and Expertise:
Reputable cleaning services possess the necessary skills and experience required to handle different cleaning issues. Weather its commercial building cleaning services, general cleaning or medical facilities or dental office cleaning, professional cleaners can deliver exceptional results. These cleaning services are also equippe with special tools and use advanced techniques to guarantee comprehensive cleaning. With Professional cleaning services, you are no longer required to purchase expensive cleaning tools and equipment, saving your business from upfront and maintenance costs.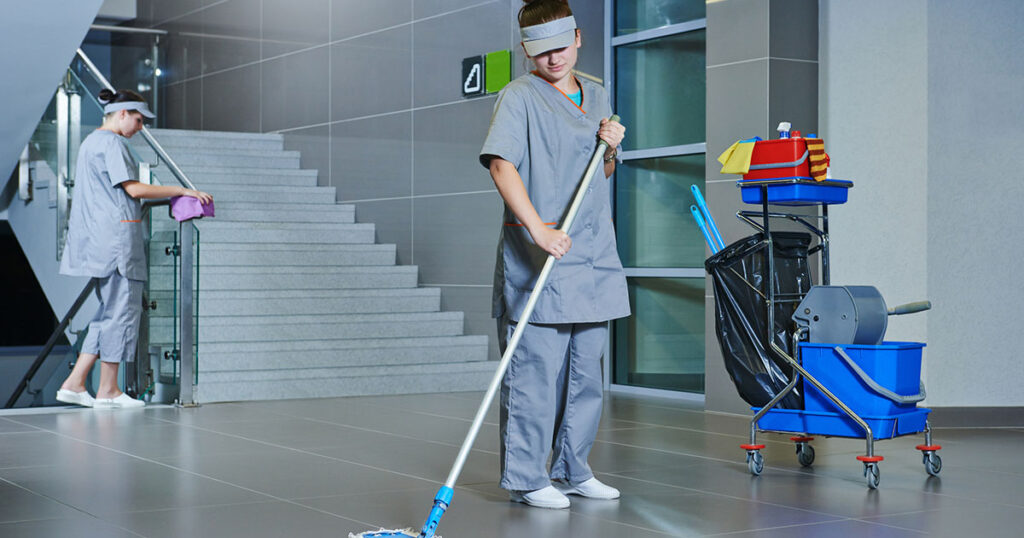 Assets Protection and Preventive Maintenance:
A trustworthy cleaning service will maintain your property according to the industry's best practices. You can avoid expensive repairs, replacements and premature deterioration of your priceless assets by investing in preventive maintenance through routine cleaning and dental office cleaning services in Kelowna. Professional cleaning services help you protect the quality of your floor, extend the lifespan of your furniture, guarantee the best performance of your equipment and save money in the long run.
Minimum Sick Leaves and Absence:
It is important to keep a workplace clean and hygienic to insure employee's health and well-being. Professional cleaning services may reduce the transmission of bacteria and germs by thorough cleaning and disinfection. A clean, free-of-germs workplace will create a healthier environment and minimize the likelihood of illness and absenteeism. Minimum fewer absences lead to more productivity, lower workforce cost and improved over-all business performance.
Clients' Perception and Reputation:
Making a good first impression on clients, customers, and visitors requires a clean and well-presented office environment. You can improve your brand image and reputation through a clean and well-organized workplace, Instilling trust and confidence in your goods or services. Which may lead to increased client loyalty, repeat business, and referrals to attract more customers. With professional cleaning services, you can take proactive steps to improve your reputation, find new customers and eventually contribute to your business's growth.
Conclusion:
As we discuss above, commercial cleaning services provide multiple cost-saving advantages for businesses. You can achieve long-term cost-savings and improved business performance by increasing operational efficiency, gaining access to specialized equipment, customizing cleaning plans, investing in preventive maintenance, reducing sick leaves and absenteeism, insuring regulatory compliance, and enhancing your reputation. Don't hesitate to collaborate with a reliable cleaning service to enjoy the benefits of a clean and well-presented workplace.